Well, Happy New Year!!! 2013 was incredible for the studio and we absolutely sucked at posting and keeping you updated on the latest happenings towards the back end of the year. Before everything gets crazy again, we wanted to get this post up in The Fray to share one of the highlights of 2013 with you. If you followed along on our Facebook page, you may have seen several photos from the set during the filming of this project……and here it is!
Giving back is a big part of our studio and where a lot of our passion for filmmaking stems from. There is no greater reward than taking time out of a crazy production schedule to work towards a great cause and help to use your craft to give back to an organization that helps others.
For over 25 years, Santa Margarita Catholic High School has been serving their "community of learners" as they like to call them. SMCHS was in need of a new admissions film as they are a private school and as such they have to go out and seek their future student body. So, we setup the meeting to chat further about the project. "The biggest challenge", as Ron Blanc (SMCHS Admission's director) referred to it, "is that we need this film to appeal to 8th graders and their parents alike." Well, we love challenges and we were confident that if we stuck to the story of SMCHS and why their school is different from others, we could appeal to the two very different audiences.
Step one was understanding the message that SMCHS wanted to get out there. They are proud that their school exudes excellence in four core areas, Academics, Athletics, Activities, and Faith. Once we were able to establish those four cornerstones, the rest was easy as apple pie……well, okay…so about 10 pre-pro meetings, a couple hundred emails, 7 shoot days, and a couple weeks of editing later….this is what we came up with. We are proud to say that this film is special to our studio in that SMCHS really put this piece into our hands and let us do what we do. The reception to the film has been overwhelming for the school over the past several months and we couldn't be more excited to share it with you now in The Fray. We truly hope you can connect with the story lines in the film and maybe you'll want to jump back in time and go through high school all over  again so you can hang out and SMCHS 🙂
A very special thank you to Kelley and Paul Gilster from 618 studios as they played a big role in the filming of all the interviews. Two very challenging and long days of filming all around the campus, not to mention we managed to find rain in Southern California in July…..when we had an outdoor shoot scheduled.
…and of course, a couple fun Behind the Scenes shots from the pool sequences….
Never did we think we'd have to improvise for rain in July, but sure enough rain showed up. So we made
a makeshift umbrella over the camera as we filmed Grant's outdoor interview in front of the pool.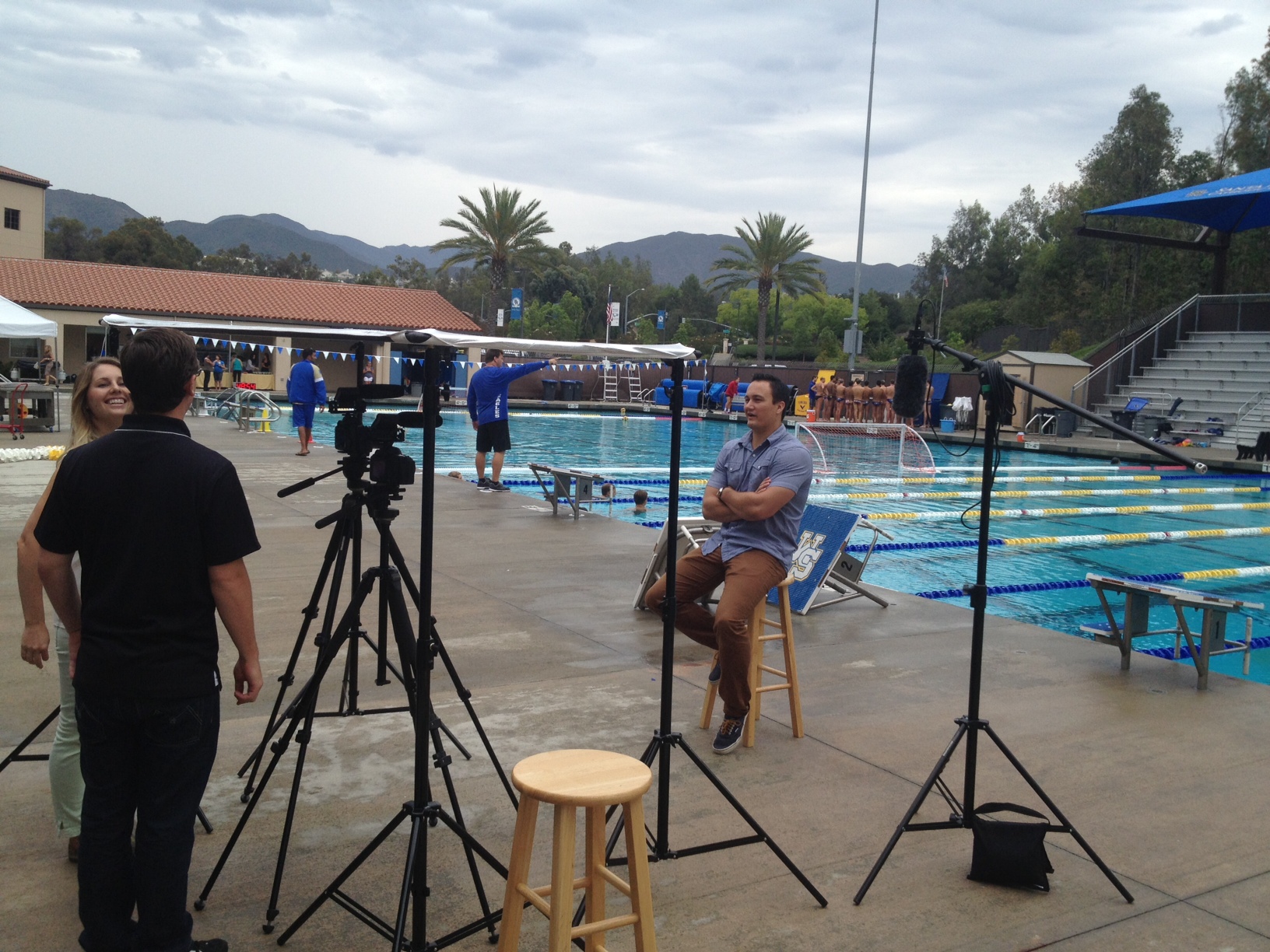 Ben ready to go with the underwater housing for the pool visuals.

Grant on the starting block waiting for the cue to jump into the pool as Ben prepares to film in the pool.